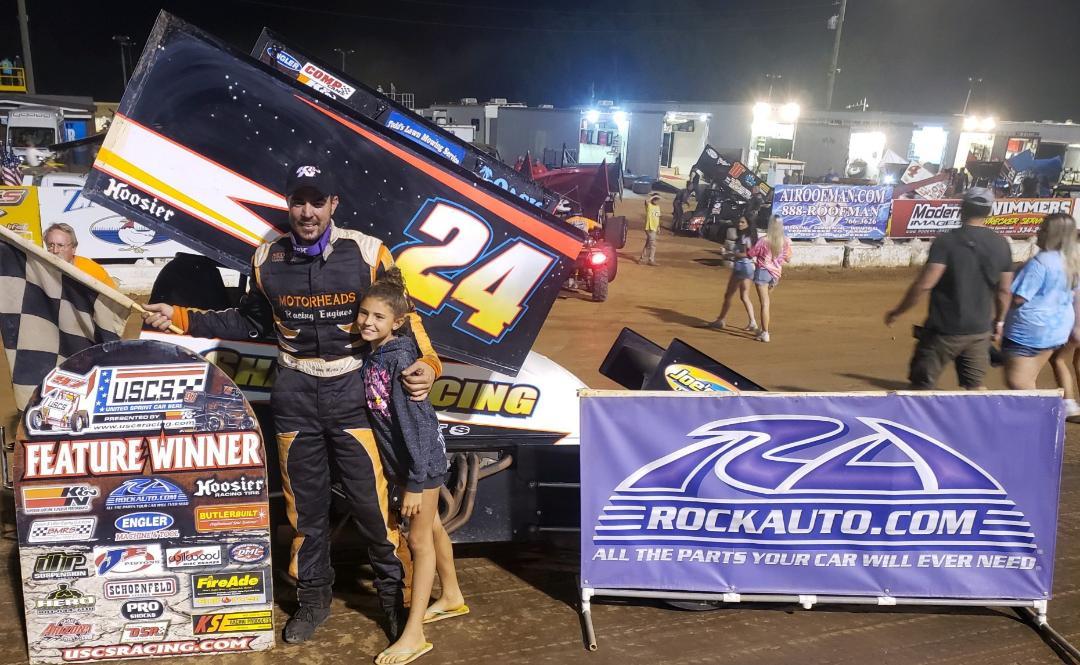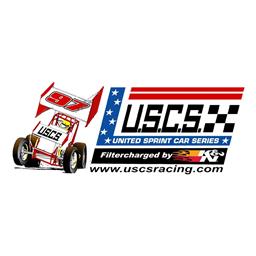 6/20/2020
USCS United Sprint Car Series
---
Danny Martin, Jr. survives for win at East Alabama Motor Speedway on Saturday 6/20
Danny "The Hammer" Martin Jr from Sarasota, FL captured the Win at the 24th Annual Alabama Sprint Car Nationals at East Alabama Motor Speedway Saturday night after a 7th place start.
Defending USCS Champion Terry Gray from Bartlett, TN charged to the runner-up spot after starting 16th. The "Peruvian Outlaw" Mark Ruel Jr from Jacksonville, FL finished in the final m podium spot (3rd place).
Sprint Car Hall of Famer, Danny Smith from Chillicothe, OH finished in 4th place and Matt Kurtz from Jacksonville, FL rounded out the night's top 5.
USCS Outlaw Thunder Tour Winged Sprint Cars
Feature 30 laps | 00:00:00
1 7 +6 Danny Martin Jr. Sarasota, FL 24
2 16 +14 Terry Gray Bartlett, TN 10
3 9 +6 Mark Ruel Jr Jacksonville, FL 83R
4 12 +8 Danny Smith Chillicothe, OH 4
5 13 +8 Matt Kurtz Jacksonville Beach, FL 20C
6 2 -4 Mark Smith Sunbury, PA M1
7 21 +14 Terry Witherspoon Jacksonville, FL 43
8 1 -7 Connor Leoffler Myrtle Beach, SC 22
9 4 -5 Mallie Shuster Newville, PA 49
10 6 -4 Michael Miller Vancleavee, MS 4M
11 8 -3 Kyle Amerson Montgomery, AL 29
12 20 +8 Tanner Witherspoon Jacksonville, FL 43JR
13 19 +6 Jim Shuster Newville, PA 20S
14 11 -3 Jeff Willingham Ripley, MS 28
15 15 - Clint Weiss Jesup, GA 0X
16 22 +6 Bob Auld Largo, FL 83A
17 17 - Joe Larkin Suwanee, GA 33
18 18 - Eric Gunderson Canton, GA 7E
19 (DNF) 3 -16 Justin Barger Cornelius, NC 5
20 (DNF) 10 -10 Morgan Turpen Somerville, TN 10M
21 (DNF) 5 -16 Jake Karklin Waxhaw, NC 5K
22 (DNF) 14 -8 Danny Burke Crosby, TX 15
Hoosier Speed Dash 6 laps | 00:00:00
1 2 +1 Morgan Turpen Somerville, TN 10M
2 5 +3 Mark Smith Sunbury, PA M1
3 1 -2 Connor Leoffler Myrtle Beach, SC 22
4 4 - Terry Gray Bartlett, TN 10
5 3 -2 Mallie Shuster Newville, PA 49
6 6 - Jeff Willingham Ripley, MS 28
Engler Machine & Tool Heat 1 8 laps | 00:00:00
1 3 +2 Mark Smith Sunbury, PA M1
2 1 -1 Mark Ruel Jr Jacksonville, FL 83R
3 8 +5 Connor Leoffler Myrtle Beach, SC 22
4 2 -2 Matt Kurtz Jacksonville Beach, FL 20C
5 6 +1 Danny Smith Chillicothe, OH 4
6 7 +1 Terry Gray Bartlett, TN 10
7 4 -3 Tanner Witherspoon Jacksonville, FL 43JR
8 5 -3 Bob Auld Largo, FL 83A
BMRS Heat 2 8 laps | 00:00:00
1 3 +2 Justin Barger Cornelius, NC 5
2 4 +2 Michael Miller Vancleavee, MS 4M
3 6 +3 Danny Martin Jr. Sarasota, FL 24
4 5 +1 Morgan Turpen Somerville, TN 10M
5 7 +2 Jeff Willingham Ripley, MS 28
6 1 -5 Jim Shuster Newville, PA 20S
7 2 -5 Terry Witherspoon Jacksonville, FL 43
Butlerbuilt Heat 3 8 laps | 00:00:00
1 2 +1 Jake Karklin Waxhaw, NC 5K
2 5 +3 Mallie Shuster Newville, PA 49
3 6 +3 Kyle Amerson Montgomery, AL 29
4 1 -3 Danny Burke Crosby, TX 15
5 4 -1 Clint Weiss Jesup, GA 0X
6 3 -3 Joe Larkin Suwanee, GA 33
7 7 - Eric Gunderson Canton, GA 7E
---
Article Credit: Pete Walton
Back to News