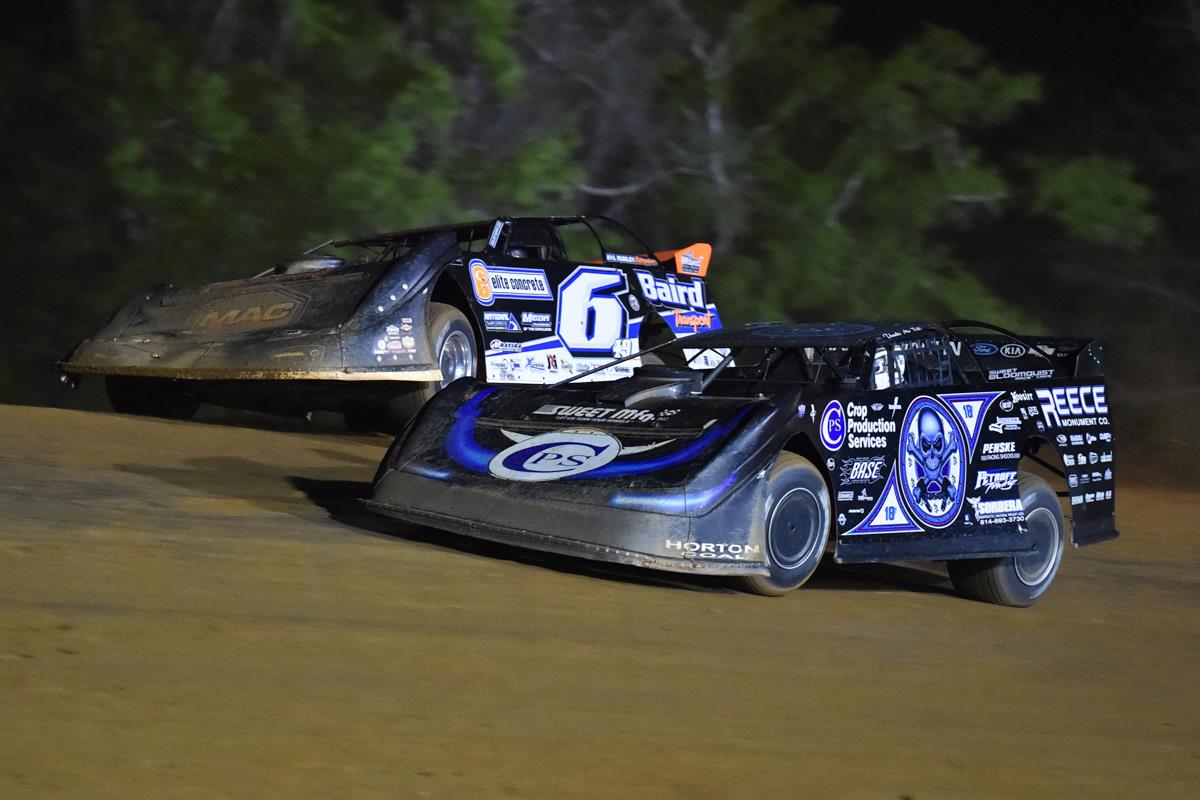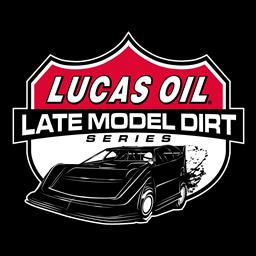 4/2/2016
Lucas Oil Late Model Dirt Series
---
Davenport Surges Late to Win Bama Bash
PHENIX CITY, AL (April 2, 2016) – The Lucas Oil Late Model Dirt Series' first ever visit to East Alabama Speedway will go down as being one of the most memorable track debuts on the series tour in recent history. Jonathan Davenport came from third to first in the final three laps to win the 19th Annual Bama Bash on Saturday Night.
Davenport passed both Scott Bloomquist and race leader Jared Landers in the waning laps for his sixth LOLMDS victory of the season. The defending series champion beat Landers, Bloomquist, Jimmy Owens, and Darrell Lanigan to the finish line for the win in front of one of the biggest crowds in track history.
"I kept looking at the flagman and the starts I had tonight were terrible. Weaver [Randy] and I went with a harder tire than anyone else in the field. Once we got rolling; and with my experience here; I knew the top would come into play. I just kept being patient up there and waiting people to clean it off. Once it did, this Longhorn car really got rolling."
"There were a couple of times I went off the back straightaway. I got a little too close to the cushion up in one and two a few times. I was able to get by Scott and then was able to close on Jared. That had to be an exciting finish to watch!"
Landers led the first 57 laps of the race and appeared to be headed for his first series win of the season. Bloomquist closed on Landers in the final ten laps. Landers was able to negate any move Bloomquist made, that's when Davenport was able to get his rhythm going on the top of the track.
"I would like to thank Baird Transport for coming on board this year. Lee Roy Rumley couldn't be here tonight, so I want to tell him that I am thinking about him and we wish he was with us here in victory lane. I love coming here to race; it is one of my top five favorites to come to."
Landers improved his finishing position one spot from the night before at Boyd's where he was edged out for second by Randy Weaver. "I came up on a lapped car and he did nothing wrong, he holding his line and I was making bad decisions on places to pass. I kind of got out of rhythm. I knew Jonathan had a harder tire on, and the tire choice paid off for him."
Bloomquist had to go to a backup car after hot laps and fought his way from seventh to challenge for the lead. "It turned out to be an 'OK' night. We had the same thing happen to us that happened at Knoxville last year with the rear drive of the car. We were good in the heat race. I knew that couple of drivers had gone with harder compounds, and it paid off for them. Our tires started going away at the end. I caught Jared, but we just didn't have enough left to get the lead."
Completing the top ten were Earl Pearson Jr., Brandon Sheppard, Dennis Erb Jr., Don O'Neal and Tim McCreadie.
In preliminary action, Jared Landers set the overall Miller Welders Fast Time amongst the 27 entrants, with a lap of 14.386 seconds. Jared Landers, Brandon Sheppard and Darrell Lanigan won their respective heat races. Colton Flinner won the B-Main.
For the latest breaking news on the Lucas Oil Late Model Dirt Series, including the latest series standings, 2016 tour schedule, driver information, and more visit the official website at: www.lucasdirt.com.
Lucas Oil Late Model Dirt Series
Race Summary
Saturday, April 2nd, 2016
East Alabama Motor Speedway – Phenix City, AL
Miller Welders Fast Time Overall: Jared Landers / 14.386 seconds
Eibach Springs Heat Race #1 Finish (10 Laps, Top 6 Transfer): Jared Landers, Earl Pearson, Jr., Scott Bloomquist, Austin Smith, Devin Moran, Jimmy Owens, Joe Armistead, Austin Horton, Ivedent Lloyd, Jr.
FK Rod Ends Heat Race #2 Finish (10 Laps, Top 6 Transfer): Brandon Sheppard, Jonathan Davenport, Randy Weaver, Dale McDowell, Dennis Erb, Jr., Tod Darda, Brian Reese, Matt Dooley, Patrick Michel
Simpson Performance Products Heat Race #3 Finish (10 Laps, Top 6 Transfer): Darrell Lanigan, Chris Madden, Tim McCreadie, Clint Smith, Don O'Neal, Steve Francis, Colton Flinner, Austin Arnold, Mason Massey
Fast Shafts B-Main Finish (12 Laps, Top 4 Transfer): Colton Flinner, Joe Armistead, Brian Reese, Austin Horton, Matt Dooley, Austin Arnold, Ivedent Lloyd, Jr.-DNS, Patrick Michel-DNS, Mason Massey-DNS
Feature Finish (60 Laps):
FINISH START CAR # DRIVER NAME HOMETOWN
1 5 6 Jonathan Davenport Mount Airy, NC
2 1 777 Jared Landers Batesville, AR
3 7 0 Scott Bloomquist Mooresburg, TN
4 16 20 Jimmy Owens Newport, TN
5 3 15L Darrell Lanigan Union, KY
6 4 1 Earl Pearson, Jr. Jacksonville, FL
7 2 B5 Brandon Sheppard New Berlin, IL
8 14 28e Dennis Erb, Jr. Carpentersville, IL
9 15 5 Don O'Neal Martinsville, IN
10 9 39 Tim McCreadie Watertown, NY
11 18 15F Steve Francis Bowling Green, KY
12 13 99m Devin Moran Dresden, OH
13 22 16 Austin Horton Whitesburg, GA
14 10 11 Austin Smith Cedeartown, GA
15 11 17m Dale McDowell Chickamauga, GA
16 8 116 Randy Weaver Crossville, TN
17 6 44 Chris Madden Gaffney, SC
18 20 21a Joe Armistead Senoia, GA
19 24 15M Mason Massey Douglasville, GA
20 12 44C Clint Smith Senoia, GA
21 19 75 Colton Flinner Allison Park, PA
22 17 91 Tod Darda LaGrange, GA
23 23 18 Matt Dooley Brooks, GA
24 21 33 Brian Reese Sharpsburg, GA
Race Statistics
Entrants: 27
Lap Leaders: Jared Landers (Laps 1 – 57); Jonathan Davenport (Laps 58 – 60)
Cautions: Joe Armistead (Lap 5); Mason Massey (Lap 24); Chris Madden (Lap 44); Randy Weaver (Lap 26)
Lucas Oil Late Model Dirt Series Provisionals: n/a
Lucas Oil Late Model Dirt Series Emergency Provisionals: n/a
Miller Welders Fast Time Provisionals: Matt Dooley, Mason Massey
Wrisco Feature Winner: Jonathan Davenport
Optima Batteries Hard Charger of the Race: Jimmy Owens (Started: 16th; Finished: 4th; Advanced 12 Positions)
Midwest Sheet Metal Spoiler Challenge Point Leader: Jonathan Davenport
Allstar Performance Power Move of the Race: Jonathan Davenport
Sunoco Race for Gas Highest Finisher: Jonathan Davenport
Hot Rod Processing Rookie of the Race: Colton Flinner
COMP Cams Engine Builder of the Race: Clements Racing Engines
Ohlins Shocks Chassis Builder of the Race: Longhorn Chassis
Outerwears Crew Chief of the Race: Jason Durham (Jared Landers)
Fastest Lap of the Race: Chris Madden (Lap #8 – 14.9156 seconds)
Most Laps Led: Jared Landers (58 Laps)
PFC Brakes Tough Break Award: Randy Weaver
Time of Race: 39 minutes 54 seconds
---
Submitted By: Jeremy Shields
Back to News