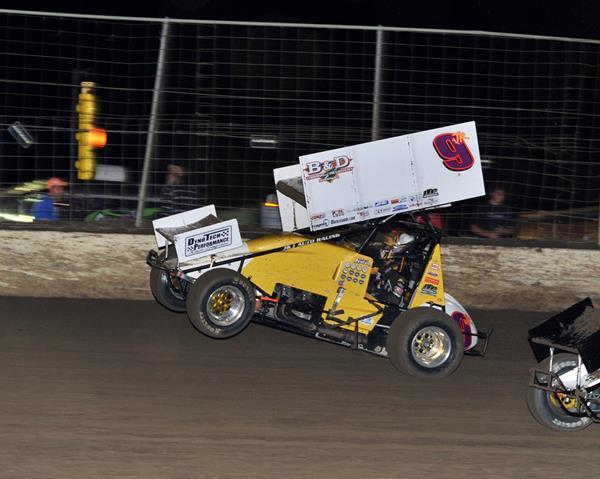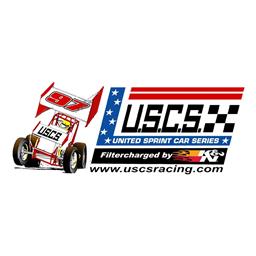 6/16/2007
USCS United Sprint Car Series
---
Derek Hagar battles to first O'Reilly USCS career win at East Alabama
Derek Hagar battles to first O'Reilly USCS career win at East Alabama
Phenix City, AL - I June 16, 2007 - Immensely talented sixteen year-old Derek Hagar from Marion, Arkansas charged past seven of the Southeast's and the Nation's top sprint car drivers into the lead on lap twenty-three of the thirty-lap O'Reilly Auto Parts United Sprint Car Series feature race and captured the first win of his young career.
Hagar, who was the 2006 O'Reilly USCS Rookie of the Year last season, was totally impressive as he charged from his eighth place starting position into victory lane with the finesse and patience of a season veteran driver. It was the crowning achievement and culmination of his racing efforts from several months of consistent and steadily improving performances at O'Reilly USCS events.
Danny Martin, Jr. From Sarasota, Florida who was the previous night's feature winner, started on the pole and led the first lap of the race before the evening's CnB Mushroom Farms Fast Time top qualifier, Randy Helton from Palmetto, Georgia came charging past him on the high side of the race track into the lead. Helton lead laps two, three, four and five and was pulling away from the field when eighteen-year-old Rookie of the Year candidate, Lee Moore from Moundville, Alabama ran off the back stretch of the track bringing out the only caution flag of the race. While under caution Helton's left rear went flat and he left the track for a tire change. Martin re-assumed the lead position. After the restart, Hagar charged past three cars into third place on lap six. Hagar then chased defending series Champion Terry Gray from Bartlett, Tennessee for three laps before moving past him into the runner-up spot on lap nine.
Hagar then rode the rim of the high-banked 4/10 mile clay oval methodically in pursuit of Danny Martin, Jr. reeling him steadily in until lap twenty two when pulled outside of Martin and passed him in lapped traffic coming of turn four. He then held off several challenges from the three-time series Championship runner-up to win by a three to four car length margin at the finish line. A wildly celebrating crew and teammate Marshall Skinner met him in victory lane.
The final running order posted Danny Martin, Jr. in the second position. Current series points leader, Terry Gray was third in the finishing order, Jeremy Scott from Franklin, Georgia who turned third quick time, behind Helton and Terry Gray, capped a solid performance with a fourth-place finish. Marshall Skinner from West Memphis, Arkansas rounded out the top five.
Second-generation sprint car ace Matt Linder from Hoschton, Georgia finished in the sixth position. Another talented Hoosier Tire Young Gun, eighteen year-old Don Young from Bartlett, Tennessee finished seventh followed by Todd Fayard from Biloxi, Mississippi from Tampa, Florida finished ninth and Bob Auld from Largo, Florida rounded out the top ten.
Terry Gray won the 6-lap Lucas Oil Power Dash. Matt Linder won the Engler Machine and Tool First Heat Race after qualifying fifth fastest. Danny Martin, Jr. won the Butlerbuilt Second Heat Race. Derek Hagar garnered the Huggins Cams Hard Charger award for his charge from eighth to first place in the 30-lap A-Main event. Nick DeFeo was the Robison Racing Products Rookie of the Race. Twenty-one-year-old Danny Martin, Jr. gathered in the K&N Filters Pole Award via his third fastest time of the evening after first heat winner Matt Linder drew a four in the inversion. Hagar was also was recognized as the Hoosier Tire Young Gun of the Race, which is awarded to the top-finishing driver under twenty-five years old.
The next O'Reilly USCS event is an O'Reilly USCS Mid-South regional championship point's event on Saturday night June 23rd at Central Mississippi Speedway www.centralmississippispeedway.com in Winona, Mississippi. The track is located seven (7) miles East of Interstate 55 on US Highway 82. For more ticket and other track info please call 662-283-1567. For O'Reilly USCS rules and series info visit www.uscsracing.com or call 404-886-5913.
O'REILLY USCS AT EAST ALABAMA MOTOR SPEEDWAYIN PHENIX CITY, AL ON 6/16//07
OFFICIAL RESULTS;
POS STRT CAR # DRIVER HOMETOWN
8 9jr Derek Hager Marion, AR
1 00 Danny Martin Sarasota, FL
3 10 Terry Gray Bartlett, TN
2 76 Jeremy Scott Franklin, GA
6 26 Marshall Skinner W. Memphis, AR
5 1x Matt Linder Hoschton, GA
7 75 Don Young Bartlett, TN
9 2 Todd Fayard Biloxi, MS
11 71 R.J. Johnson Tampa, FL
10 83 Bob Auld Largo, FL
13 96 Nick DeFeo Marietta, GA
4 27 Randy Helton Palmetto, GA
12 1A Lee Moore Moundville, AL
DNS 4x Dusty Rhoades Clearwater, FL
CnB MUSHROOM FARMS FAST TIME AWARD: Randy Helton 13.79 seconds (4/10 mile)
LUCAS OIL POWER DASH WINNER: Terry Gray
K & N FILTERS POLE AWARD: Danny Martin, Jr.
HUGGINS CAMS HARD CHARGER: Derek Hagar (started 8th and passed 7 cars)
HOOSIER TIRE YOUNG GUN OF THE RACE: Derek Hagar
ROBISON RACING PRODUCTS ROOKIE OF THE RACE: Nick DeFeo
JE PISTONS TOP GUNS AWARD: Marshall Skinner (2nd place)
K&N FILTERS 3RD-PLACE AWARD: Terry Gray
BUTLERBUILT 4TH-PLACE AWARD: Jeremy Scott
OUTLAW DISC BRAKES TOP FIVE AWARD: Marshall Skinner
SIMPSON SAFETY PRODUCTS 6TH-PLACE AWARD: Matt Linder
FSR RACING PRODUCTS-7 TH-PLACE AWARD: Don Young
WELD RACING HARD LUCK AWARD: Randy Helton
ENTRIES: 14 PROVISIONALS: None
LEAD CHANGES: three
LAP LEADERS: Danny Martin, Lap 1, Randy Helton Laps 2-5, Danny Martin
Laps 6- 22and the winner Derek Hagar Laps 23-30
HEAT RACE RESULTS:
LUCAS OIL POWER DASH 6 laps: Winner - Terry Gray 2. Danny Martin, Jr. 3. Todd Fayard 4. Derek Hagar 5. Matt Linder 6. .Marshall Skinner.
ENGLER TOOL AND MACHINE 1ST HEAT-10 laps: Winner - Matt Linder 2. Jeremy Scott 3. Randy Helton 4. Don Young 5. Todd Fayard 6. R.J. Johnson 7. Nick DeFeo.
BUTLERBUILT 2ND HEAT-10 laps: Winner - Danny Martin, Jr. 2. Terry Gray 3. Marshall Skinner 4. Derek Hagar 5. Bob Auld 6. Lee Moore 7. Dusty Rhoades.
Photo/Caption #9Jr.: Hagar is pictured with Crew-Chief and Step-dad Kenny Conrad in victory lane at East Alabama Motor Speedway on Saturday night. (USCS file photo)
---
Article Credit: Pete Walton
Back to News